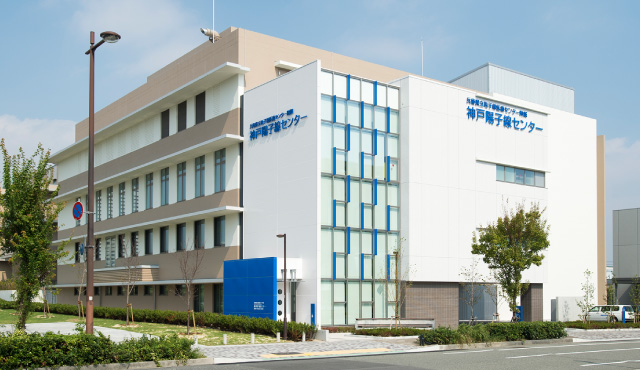 [Kobe Proton Center]
Location
1-6-8 Minatojima Minamimachi, Chuo-ku, Kobe 650-0047, Japan
(southernly adjacent to Prefectural Kobe Children's Hospital)
Purpose
Clinic (outpatient) (Proton beam therapy facility)
Proton beam therapy rooms
2 rooms and 2 gantries
(Gantry: a swivel-equipped particle-beam emitter)
Medical Departments
Department of Radiation Oncology
Department of Pediatric Radiation Oncology
Department of Anesthesiology
Establishment
December 1, 2017
Acquired Facility Criteria

1 Particle radiation therapy
2 Premium surcharge for indication of particle radiation therapy
3 Premium surcharge for management of particle radiation therapy
4 Facility for which well-estd technical criteria are applicable (submissions relating to advanced medical technology)
5 Anesthesia management fees (I)
6 Outpatient radiation therapy department
7 CT and MRI imaging
8 Cancer patient guidance management fees 1
9 Cancer patient guidance management fees 2
10 Cancerous-lesion palliative guidance management fees
11 Designated medical institution for pediatric chronic specified diseases
12 Designated medical institution under the Public Assistance Act and Support Act for War-displaced Japanese Left Behind in China
Basic Principle
We advance proton beam therapy that pioneers the future of cancer treatment on the basis of scientific evidence.
Basic Policy
1. We provide highly precise radiation therapy as a state-of-the-art proton beam therapy facility.
2. We conduct proton beam therapy that reflects advances in cancer treatment.
3. We provide proton beam therapy with an emphasis on pediatric cancer.
4. We respect patient wishes and conduct trusted treatment based on accurate medical information.
5. We make team medicine the basis for advancing compassionate care.
Cooperating Hospitals
Cooperating hospitals are as follows. Each is located close to the Center.
- Kobe Minimally Invasive Cancer Center (KMCC)
This hospital provides cooperation in such matters as hospitalization, dental treatment, oral care, pulmonary and hepatic marker implantation, colonoscopies, and gastroscopies.
http://www.k-mcc.net/
- International Clinical Cancer Research Center (ICCRC)
This hospital provides cooperation with prostatic marker implantation.
http://www.med.kobe-u.ac.jp/iccrc/
Cooperating Accommodations
The Center has no hospitalization facilities, and so adult patients are, with few exceptions, treated on an outpatient basis.
If you have traveled from a considerable distance and find daily commuting to the hospital difficult, please make use of accommodations in the local area.
For information on cooperating accommodations, check here.