A First Word
Particle-beam therapy* that cures without surgical intervention are receiving attention as a treatment method that offers excellent quality of life (QOL).
* Proton beam therapy and heavy-particle beam (carbon-ion beam) treatments are collectively called particle-beam therapy.
Major features of particle-beam therapy include these:
- No pain
- No harm to organ functioning, form, or appearance, and no scarring
- Applicable even for the elderly
- Enables early return to society
Particle-beam therapy is one form of radiation therapy, but large differences from conventional X-rays are that it is not prone to damaging nearby healthy cells in front of or behind cancer cells, and has few side effect.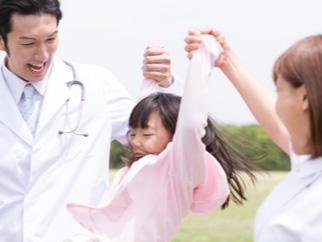 (Note) Please ask the contractor about the flow up to consultation and treatment fee
Cooperating Accommodations
The Center has no hospitalization facilities, and so adult patients are, with few exceptions, treated on an outpatient basis.
If you have traveled from a considerable distance and find daily commuting to the hospital difficult, please make use of accommodations in the local area.
For information on cooperating accommodations, check here.